A CANYON DINING EXPERIENCE
Serving STEAKS, BBQ RIBS, CHICKEN & SEAFOOD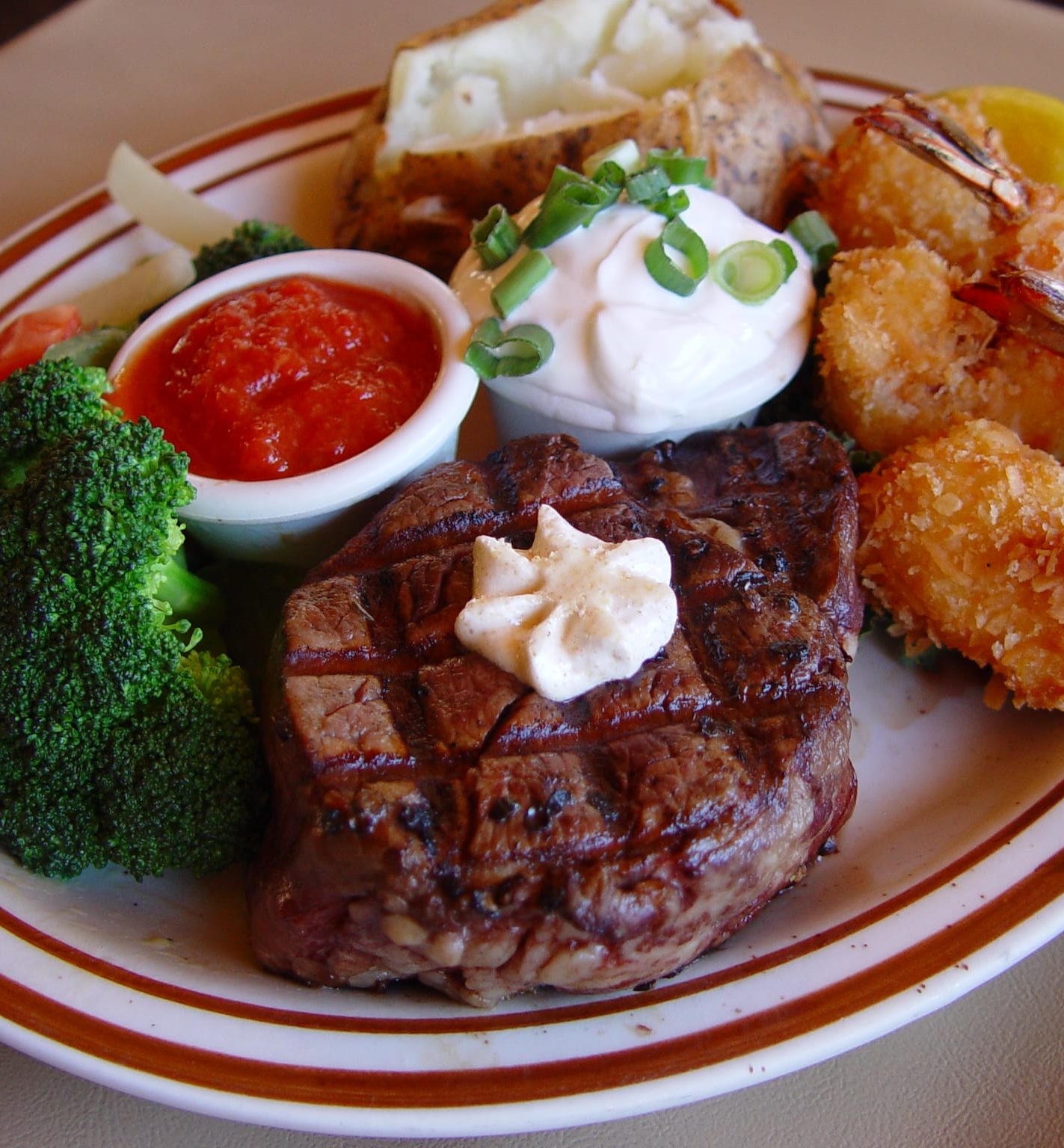 Welcome to
Rusty's Ranch House
Your Cedar City restaurant dining experience will be second to none for that special anniversary, birthday or… just that rejuvenating memorable "night out." Less than 5 minutes from downtown and proudly serving the freshest "cut to order" steaks, BBQ ribs, chicken, seafood, salads, pasta and appetizers in the Cedar City and Southern Utah area.
A Small Taste of Our Menu
Four half shells of baked potato with melted cheese, chopped green onions and real bacon bits, served with ranch dressing.
This 7 oz. steak is perfect for the lighter appetite.
Ribs, brisket, leg & thigh.
If they weren't biting yesterday, they're not on our menu today! Prepared either the Chef's way or your way, ask your server for details.
Petite filet served with 3 jumbo coconut shrimp.
Linguine, Fettuccini, Tortellini
Crisp romaine lettuce, parmesean cheese, croutons, tossed with our own Caesar dressing.
12 oz. tender and juicy steak – a big favorite.
Drizzled with a Honey Raspberry BBQ sause.
The food was delicious again. The tossed salad, bread, coconut shrimp and ribs were amazing. Even the veggies were delicious. The food came quickly and our food server was friendly and efficient. It's a nice atmosphere and just a little ways up the mountains where the autumn colors were beautiful.
Dinner at Rusty's was an amazing experience. I had the stake and coconut shrimp my friends had different dishes all were delicious as we all tasted each other's. I will have to say that the steak melted in my mouth and the service was spot on.
I was in town for the Tour of Utah cycling stage race and my wife and I want a nice meal. Someone recommended Rusty's and it was a great recommendation. just a quick 5-6 minute drive from our hotel may less than 10 minutes from the freeway up the canyon. The place was busy, but we got right in. Service was great , personable and efficient. Food was fantastic! one of the best steaks my wife and I have ever had. Don't pass this place up. If you travel down by Cedar City a lot then this will become one of your favorites.
It was getting late and I had been driving all day. I was nearing Cedar City, but wasn't sure I would make it before all but the late night fast food restaurants were closed–when I came upon Rusty's Ranch House. What a find!!! I would never have guessed that some of the very best seafood I've had in my life would be found in this restaurant in quiet Utah.. I had the calamari (which was strips not rings!!) and the coconut shrimp. They were without a doubt the best calamari and shrimp I have ever had and that includes coconut shrimp on Grand Cayman Island. The food simply could not have been better–and I heard others at a nearby table raving as well. I would give this one six stars if I could!!